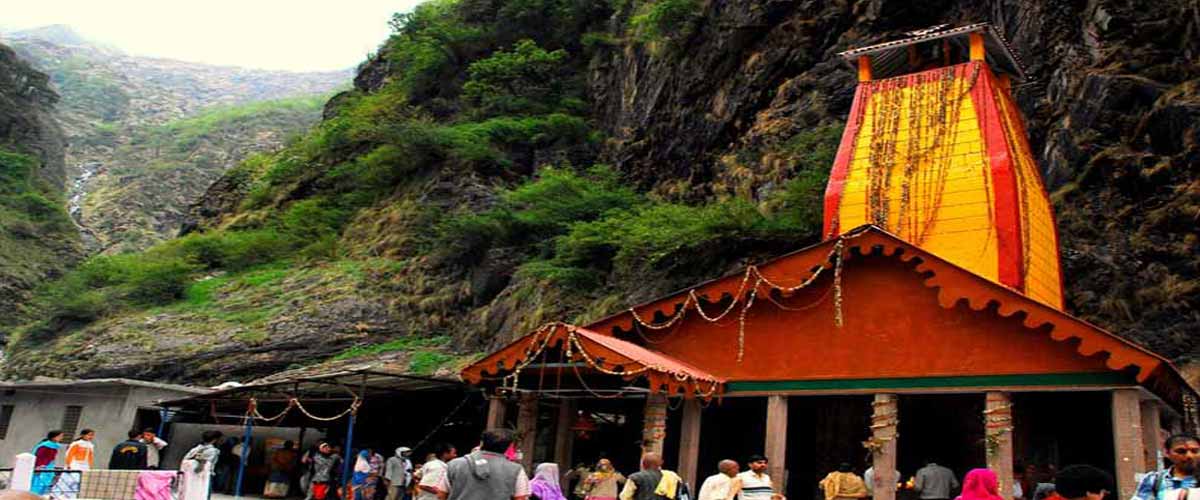 Yamunotri Dham: (Yamunotri Temple)
It is located in Uttarkashi at a height of 3164 mts from the sea level. Yamunotri Dham temple spirits bringing the origin of River Yamuna. It is the only place where the devotees can find both the hot and cold environment. A visit to Yamunotri temple is a full day tour can be done from Uttarakhand main towns named Rishikesh, Haridwar and Dehradun. The temple is accessible by 13 Kilometers walking from the town of Hanuman Chatti and 6 Kms from Janki Chatti. Source of Yamunotri River and the seat of Goddess Yamuna, it is the important place in the Himalayas, The main attraction at Yamunotri is the temple devoted to the Goddess Yamuna and the holy springs at Janki Chatti. The temple of Yamuna, on the left bank of the Yamuna, was constructed by Maharaja Pratap Shah of Tehri Garhwal. Yamunotri, the source of Yamuna River and the seat of the Goddess Yamuna, The Yamunotri Dham is the holy travel at the height of 3293 meters at Uttarkashi district in Uttarakhand state of India. The temple is made of black marble is constructed by Maharaja Pratap Shah of Tehri Garhwal. The temple opens on Akshaya Tritiya in the month of May and closes on the next day of Diwali in November.
There are various religious places surroundings the Yamunotri Dham. A few to name are as below:
• Surya Kund: Located near the holy temple of Yamunotri, Surya Kund is a natural hot water source. The temperature of this kund is around 1900 °F. This temperature is quite sufficient to cook food within minutes. The water of this kund is used to make prasad of the yamunotri temple.
• Divya Shila: As per the beliefs, it is important to devotees need to bow their head down here first. Divya Shila is a strong rock pillar situated near the Surya Kund.
• Sapt Rishi Kund: Another best place for tourist in Yamunotri is the Sapt Rishi Kund. This natural lake with grayish blue water and bank is the source of River Yamuna.
• Hanuman Chatti: It is situated just 13 kms from Yamunotri, the Hanuman Chatti is the starting point of both Yamunotri and Dodital Trek. It is basically the confluence of Ganga and Yamuna River. This region is famous as a beautiful spot.
• Janki Chatti: 7 kilometers away from Yamunotri. This place is famous for its natural thermal springs. Surrounded by mountains from all sides.
• Barkot: Situated at an altitude of 1220 meters, Barkot is a wonderful trekking destination. It is just 49 kilometers away from Yamunotri. It is an ancient temple that is much visited by the tourists.
• Dodital: The Dodital is a mysterious lake, which as per the mythological tales is the birthplace of Lord Ganesha. The reason why it is considered a mysterious lake is, its depth is still unknown to people.